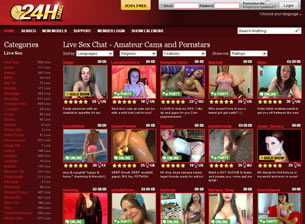 24H Cams is a premium live sex site that provides members with exclusive streams of model webcams. The site originally started out in 2003, although due to a big push from the owners, its popularity has skyrocketed within the cam sex community over the last 12 months. For those that aren't familiar with the format, live sex sites such as 24HCams.com allow anyone from anywhere on the planet to select a model from the site's collection to view live in a 'private' room. The models will always appear in a public area beforehand so you can make sure you're getting what you want and of course, light conversation with them is more than encouraged.
This review will focus on the positives and negatives of 24H Cams with respect to other live sex sites on the Internet. It should provide you with adequate information regarding model response and involvement, interface design and integration and navigation panes and ease as well as many other factors that should help you decide of 24HCams.com is the webcam site for you.
INTERFACE
24H Cams has an interface largely dominated by the color red. The homepage displays a selection of models that are rated the highest (as decided by other users of the site) and allows you to sort them by various filters including languages spoken, nationality and 'features', the latter of which gives options regarding the quality of the stream and whether the model has an audio feed. Along the left-hand side of the homepage, a list of categories is available that can help you pin down the type of model you want. Options here include generics such as Asian and Latina, whereas more specialized and uncommon categories like BBW and small tits are present.
When you eventually decide on a model you simply click on their username and instantly teleport to their public chat room. Here you can see the quality of their stream and have a chat with them. 24HCams.com has a very good streaming interface that allows you to toggle between HD, change the volume of the stream, refresh the webcam and even select the style of your text. I was impressed with the quality of the webcams that I did sample and found little issue chopping and changing all of the user preferences available to be altered.
ACCESSIBILITY
Being able to use a webcam site is probably one of the most important things with regard to how good it is. 24HCams.com does a great job on the whole of making sure you're able to use their website. After signing up, the site automatically went through a speed test of my Internet connection to work out what quality of video would best suit my circumstances. This is very beneficial as some sites either allow models to stream at whatever maximum rate they wish, thus making an issue for those not on strong internet connections, or alternatively cap every stream to a low quality which obviously makes the viewing experience for those that can handle more slightly less enjoyable.
If you have an issue using the website, many channels are available to get the answers you seek as quickly as possible. The best method to finding an answer to your problem is to check out the frequently asked questions section; just about every major glitch or potential question is answered here. Following on from that, you can phone them directly, send them an email or if you prefer a really quick answer, contact the live support section to speak to a person instantly.
MODELS
24HCams.com has a huge selection of models when compared to other webcam sites. At any one time, over 1,000 keen ladies are ready and willing to do whatever you want them to on cam. There are even a good number of men around should that thing tickle your fancy too – an average of around 150 guys are on call whenever you fancy some man cam action. Each of the models tag themselves in fields that can be sorted by you at any moment. If you're only looking for HD cams featuring redheads, 24H Cams allows you to find them. On the other hand, if you just want college girls that have a phone to chat, those can easily be found with the click of a button.
So what are the models actually like? I was pleased to see that 24H Cams has a number of native English speaking models that are available for entertainment. Too many sites allow a huge number of non-English speaking models to work for them and let's face it, communication becomes a real issue and it's almost impossible to get exactly what you want from them. I spoke to six different models while I was there; all of them were polite, friendly and didn't constantly push going into private chat with you whenever they could.
The site has some of the prettiest girls on the net and I was not disappointed with the variety. Everything from teenage Asians to mature housewives – 24HCams.com has a great selection of models and all of them are legitimately looking to give you the time of your life. When compared to other sites that offer similar services, 24H Cams comes on top due to the sheer number of live women and their ability to actually talk to you. It's hard to be disappointed with the selection of beautiful women, plus if you ever feel like experimenting with something different, there are lesbian and couple cams that provide just the type of entertainment you'd expect!
SERVICES
Most live sex sites run on the system of simply giving a fixed amount of money to a model in order to receive a private one on one show. 24H Cams actually goes quite a bit further than this, allowing you to get the most out of your buck when it comes to having quality live sex entertainment. While they do run that classic exchange system that can run you anywhere from $1 per minute for an amateur all the way to $5 per minute for an experienced pornstar, there are plenty of other options available.
One of the best in terms of cost efficiency comes with a specific 'goal' of say, $100 that is set by the host and then each party is asked to contribute a fixed amount for a 10 minute show. One example was a mere $5 – leading to a very attractive price of half a dollar per minute where the host actually finished the session by squirting all over the webcam. Some other models have a completely voluntary donation system that starts the show when X money is reached – these are available to be watched by anyone all though of course, contributing means the show starts quicker.
Other services include individual model VIP status. If there's a certain babe that you go absolutely crazy for, joining her VIP program may mean you get any number of personal advantages. For instance, one model writes your name in lipstick on her mirror that is always seen in shows whereas another takes custom pictures for you. The most common advantages are a reduction in price for one on one sessions and a priority in group sex chat that means your suggestions are always placed at the top of the pile.
CONCLUSION
24H Cams is a very enjoyable site with a number of advantages that place it well above other competitors. In almost every respect it's near perfect and there is little that can be suggested for improvement. The interface is very clean and easy to use, meaning you can get around and do the things you want to with minimal effort and time investment, plus the accessibility of services and ability to resolve issues on the fly makes for a very hassle-free experience.
The models are obviously where it counts and 24HCams.com does not disappoint. It has a huge selection of women to choose from and they're all top notch entertainers. They speak two languages better than most; English and sex! There's no doubt about it, this site knows what it takes to get the best girls in the business to produce some killer live shows. Plus, with the sheer number of options for members to take advantage of when it comes to getting the goods, 24HCams.com beats the competition hands down.
If you're looking for a place on the web to kick back and have some fun with lively, fun-loving, outgoing girls then there's no better place. 24H Cams has developed a great name for itself and will continue to be one of the best in the industry when it comes to live webcam sex shows. Don't miss out on the fun, head over to 24HCams.com today and enjoy the delights of high quality cam shows.